Introduction:
In today's dynamic technological landscape, achieving optimal testing and simulation processes requires a strategic approach that emphasizes efficiency and reliability. At Pickering Interfaces, we recognize the challenges faced by engineers in this evolving landscape and have developed a comprehensive range of chassis solutions that redefine industry standards. With a strong focus on availability, choice, end-to-end integration, long-term support, compatibility, and space-saving designs, our chassis lineup positions us as intellectual thought leaders in the industry.
Availability: Rapid Delivery Sets Us Apart
When it comes to obtaining the necessary equipment for your projects, time is of the essence. We set ourselves apart by offering exceptional availability and delivering chassis options within an impressive timeframe of just 4-6 weeks. This places us well ahead of the industry average of 10-12 weeks, enabling engineers to expedite their projects and gain a competitive advantage in today's fast-moving market.
Choice: Tailored Chassis Solutions to Meet Your Unique Requirements
Our chassis lineup encompasses a wide range of options, ensuring that engineers can find the perfect fit for their specific requirements. For PXI-based applications, we offer PXI Chassis in 8, 14, and 19-slot configurations. For those seeking fully-hybrid PXIe chassis solutions, Gen 2 (18-slot) and Gen 3 (8 or 18-slot) hybrid chassis are available. Remote control options are available for both families. Additionally, we provide LXI/USB Chassis options in 2, 4, 6, 7, and 18-slot configurations – allowing any of our 3U PXI switch modules and simulation modules to be controlled via USB or Ethernet. This extensive range of choices enables engineers to select the ideal chassis platform for their testing and simulation needs.
Pickering Chassis Options:
| | | |
| --- | --- | --- |
| PXI | PXIe Full Hybrid | LXI Ethernet/USB |
| | | |
| | | |
| | | |
| | | |
| | | |
LXI Chassis: A Cost-Effective Solution with Enhanced Control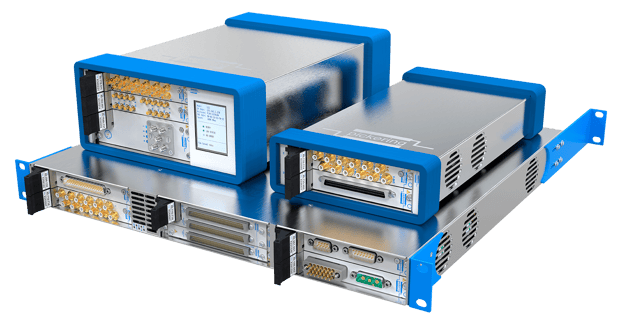 Our modular LXI/USB Chassis range presents a compelling option for engineers seeking cost-effective solutions without compromising functionality. These chassis offer the advantages of lower cost while providing simple and convenient control options via Ethernet and USB interfaces. The ability to house capabilities within a single unit* further streamlines the testing process, reducing complexity and enhancing flexibility.
* Products 41-740, 40/42-738 are unsupported and 41-743 support is chassis dependent as some chassis have limitations on power. If interested, contact your sales office.
End-to-End Solution: Unify Your Testing Arsenal
In addition to providing chassis options, we take the concept of convenience a step further by offering end-to-end solutions. By consolidating chassis, switching, simulation, cabling, and software driver needs into a single source, we eliminate the hassle of sourcing and integrating multiple components from different suppliers. This comprehensive approach saves valuable time and effort, allowing engineers to focus on their core testing objectives with ease and efficiency.
Long-Term Support: A Commitment to Customer Success
Customer satisfaction lasts well beyond your initial purchase. We stand behind the quality of our products with a standard 3-year warranty*, and a proven track record of 15 to 20 years of product longevity ensures peace of mind and protection for your investment. Furthermore, our commitment to customer support is unparalleled. Customers can readily gain access to a team of expert engineers who provide personalized assistance and consultation, ensuring that challenges are addressed promptly and effectively.
*Currently the 110 GHz products come with a 1-year warranty
Compatibility and Membership: A Pledge to Interoperability
Pickering Interfaces is a proud founding member of the PXI Systems Alliance. PXISA is a governing body overseeing the PXI industry standard, and any company manufacturing PXI products (modules, chassis, and controllers) must ensure that they are fully compliant with the standard and hence are 100% interoperable with products from all other PXI suppliers. So, for example, Pickering's PXI and PXIe chassis will accept all compatible modules from any supplier and our PXI and PXIe modules may be used in all compatible chassis from Keysight, NI, Marvin Test Solutions, ADLINK, VTI Instruments, VX Instruments and any other supplier.
Space-Saver: Optimizing Rack Space
Optimizing rack space is crucial in crowded testing environments. All our chassis designs are crafted with efficiency in mind. For our PXIe hybrid chassis, the novel cooling design requires just 4U of rack space for all but the highest power consumption applications, while competitors typically require 5U. This space-saving advantage allows engineers to make the most of limited physical resources, optimizing their testing setups and maximizing efficiency.
The Cornerstone of Your Complete Production Test System
A chassis is the cornerstone of any PXI-based, modular test system, but it is often treated as a commodity and an afterthought in the system design process. We fully understand the importance of this fundamental component to the effectiveness of the complete test system, and we will continue to develop and enhance our industry-leading chassis family to provide our customers with the most flexible and effective solutions available for their T&M applications.