The International Microwave Symposium (IMS), held June 8-9, 2021, was our first U.S. trade show following the pandemic. It was great to finally be able to meet and speak with customers and other vendors about their latest projects and technologies. Read on to see our review of the exhibition.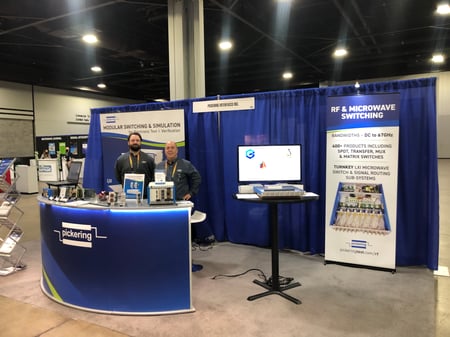 The show featured several innovative new products such as 3D-printed waveguides, semiconductor RF solutions, and advances in military radios. As always, IMS displayed the best of emerging technologies in microwave and RF products.
However, there were some drawbacks; customer attendance was low, and when it came to new products, there weren't many to announce, likely due to this years' smaller footprint. This leads us to believe that companies have just been surviving through the pandemic, which is an accomplishment in itself.
And, although we're releasing 67 Ghz solutions, we were surprised that our competitors are not producing switching products in this higher bandwidth.
While visiting other exhibitors at the show, we observed that relay manufacturers are pushing their upper bandwidth limits higher every year to meet the demands of 5G and other high-frequency applications. The industry is also looking beyond, to 6G and bringing terahertz components from the lab and into future commercial products. Rapid prototyping for existing technologies was also a key focus of the show, with manufacturers and attendees looking to discuss the capabilities of 3D printing to work with both conductive and dielectric materials.
It was an excellent opportunity to get back to working directly with customers and other industry leaders in RF and microwave technology, and we look forward to an even better show next year.