What is PXI - Background and History
PXI, short for PCI eXtensions for Instrumentation, is a rugged PC-based platform that offers a solution for measurement and automation systems. With PXI you benefit from the low-cost, high-performance, and flexibility of the latest PC technology and the benefits of an open industry standard. PXI combines standard PC technology with the mechanical form/factor from the CompactPCI™ specification, and added integrated timing and triggering to deliver a rugged platform with major performance improvements compared to other test and measurement architectures.
PXI's mechanical, electrical, and software features define complete systems for test and measurement, data acquisition, and manufacturing applications. PXI has become a dominant industry standard for measurement and automation applications such as military and aerospace, automotive, manufacturing test, machine monitoring, and industrial test.
The PXI Standard

PXI is governed by the PXI Systems Alliance (PXISA), a group of more than 50 companies chartered to promote the standard, ensure interoperability, and maintain the PXI specification. Because PXI is an open specification, any vendor who joins the Consortium is able to build PXI products. CompactPCI, the standard regulated by the PCI Industrial Computer Manufacturers Group (PICMG), and PXI modules can reside in the same PXI system without any conflict because interoperability between CompactPCI and PXI is a key feature of the PXI specification.
The PXI standard defines the mechanical, electrical and software interfaces provided by PXI compliant products, ensuring that integration costs and software costs are minimized, and allows for trouble free multi-vendor solutions to be implemented.
In use, a PXI system appears as an extension to the PCI slots in the user's controller, regardless of whether the controller is embedded in the PXI chassis or is a separate computer.
Most PXI instrument modules are simple register based products that use software drivers to configure them as useful instruments; taking advantage of the increasing power of computers to improve hardware access and simplify embedded software in the modules. The open architecture allows hardware to be reconfigured to provide new facilities and features that are difficult to imitate in comparable bench instruments.
The PXI modules, which provide the instrument functions, are plugged into a chassis. This chassis may include its own controller running industry standard operating systems, or a PCI to PXI bridge that provides a high speed link to a desktop PC.
CompactPCI and PXI products are interchangeable, they can be used in either CompactPCI or PXI chassis, however installation in the alternate chassis type limits the functionality of certain features.
What is PXI - The System consists of three main components: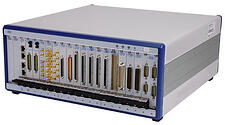 PXI chassis - the chassis is the backbone of the system - it contains a high performance
backplane giving the cards in the system the ability to communicate rapidly with one another. It also provides power and cooling and the chassis normally ranges from four slots up to twenty. The chassis are typically designed to house either 3U or 6U PXI modules. The PXI standard supports the design of chassis that allow both 3U and 6U modules. The PXI specification does not set a rigorous standard for what can be included in a PXI chassis, though all must comply with the mandatory parts of the specification. For that reason, PXI chassis vary in their capability and the user needs to choose the chassis that is right for their specific application.


The System Controller- The PXI chassis can use either an embedded controller in the Slot 1 position, or an interface module allowing connection to an external controller (such as a PC). The use of a standard PC provides a particularly cost effective, but powerful option.The choice of the type of PXI controller will vary depending on the application. PXI has sufficient flexibility to enable it to be configured for internal embedded controllers, laptops and desktop PCs.


The Modules - these come in many different varieties including test instruments that take a wide variety of measurements such as voltage, current, frequency as well as signal and waveform generators. They can also perform other functions including boundary scan test, image aquisition, power supplies, switching and more.
PXI Software
The PXI standard is reliant on a standardized software and hardware environment. Since PXI is based on the PCI standard, many of the PCI routines can be moved into the PXI environment.The PXI modules cannot be controlled from a physical front panel, therefore software control via the backplane is required. Minimum requirements are for Window 32-bit drivers. Some vendors support Linux or other OS' as well, but Windows is the minimum.
IVI drivers are optional. IVI Drivers are sophisticated instrument drivers that feature increased performance and flexibility for more intricate test applications that require interchangeability, state-caching, or simulation of instruments. To learn more about IVI drivers, please visit the IVI Foundation's web site: http://www.ivifoundation.org
PXI Market Acceptance
In 2009 the PXISA announced that there were more than 100,000 PXI systems deployed containing more than 600,000 instruments. Today, there are more than 55 PXISA member companies that have produced more than 1,500 different PXI modules. (Source: PXISA web site) As shown in Figure 1, the 2011 Frost and Sullivan Modular Instrumentation study expects the PXI instrumentation market to grow at a compounded annual growth rate of 18.1% for the next 6 years. At this rate, the PXI market is expected to exceed 1 billion USD by 2017.
What is PXI Express (PXIe)?
As the commercial PC industry drastically improves the available bus bandwidth by upgrading from PCI to PCI Express, PXI has the ability to meet even more application needs by integrating PCI Express into the PXI standard. To ensure the successful integration of PCI Express technology into PXI and CompactPCI backplanes, engineers within the PXISA and the PICMG, worked to ensure that PCI Express technology can be integrated into the backplane while still preserving some compatibility with the large installed base of existing modules. With PXI Express, users will benefit from significantly increased bandwidth, guaranteed backward compatibility, and additional timing and synchronization features.
Take a look at our Knowledgebase article - "Comparing PXI and PXI Express"
You can also take a look at the PXI System Alliance's website (www.pxisa.org) for more information on PXI Express.
Want more PXI Information? Check out our PXImate eBook.
This book provides an overview of the PXI standard together with useful information about the technology behind the switching and instrumentation modules a typical chassis can contain. It is a guide for those new to PXI systems and a useful source of reference material for the more experienced.