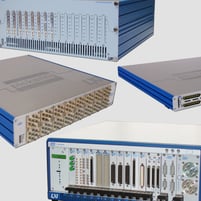 Sometimes it seems like PXI is all the talk of the test and measurement industry. But, let's not forget about LXI and its solutions to your switching needs that you may not be aware of.
LXI Switching has come a long way since the LXI standard its introduction over 11 years ago and its popularity is becoming more prominent with the introduction of new products and capabilities. There has been speculation that PXI and LXI are competing standards, but that is a view that we do not share. They are sufficiently different, and there often will be clear cases where one is better for a particular solution than another. Both the LXI and the PXI standards bring different advantages and disadvantages depending on what the user is trying to accomplish. So, let's talk about LXI Switching and how far it has come since its introduction in 2005.
That brings me to my first (obvious) question, What is LXI? LXI is the power of Ethernet and the Web applied to Test & Measurement (T&M) instruments, offering you new possibilities in test systems – local, remote, distributed and time-aware. LXI products are certified by third-party test routes to ensure they comply with the worldwide LXI standard. Today there are thousands of compliant instruments which have passed LXI conformance testing, and every one of them lets you use the connection you already have.
The use of switching systems to route instrumentation and stimulus signals to appropriate test points on a unit under test (UUT) has a very crucial role to play in most electronics test systems. The sharing of test resources, connection of calibration references, load management, and many other functions are all managed by the switching system; the switching system acts as the interface between the unit under test and the test equipment. For companies that embrace both the LXI and PXI standards for their switching systems, it is a question of what they decide is the appropriate solution for their application. PXI and LXI are sufficiently different - there will often be clear cases where one option is better for a particular solution than another.

For additional information on LXI Switching check out our Knowledgebase.
The Pickering and LXI Switching Relationship
Pickering was one of the early adopters of the LXI standard as a means of providing a standardized interface for Ethernet (LAN) controlled instruments and continue to be active in the evolution of the specification. We are a Strategic Member of the
LXI Consortium, for more information on the LXI Standard please visit their website at www.lxistandard.org. Today, the LXI Consortium has proudly certified over 3,500 LXI products from 41 vendors in 303 different product families all complying to the worldwide standard.
We manufacture a wide range of LXI switching (Ethernet Controlled) solutions and we strive to ensure that we meet your test and measurement needs and have specific solutions available for you.
Take a look at some of our Success Stories including how LXI supported the CERN collider for signal management and how LXI was used in HASS testing, among many other stories.
LXI Modular Chassis
For applications requiring diverse switching functions but preferring a LXI interface, look no further than our LXI modular chassis. These chassis are capable of hosting our extensive range of 3U PXI switching and test & measurement (T&M) modules in an LXI environment, allowing remote control over a gigabit Ethernet connection.
Our LXI modular chassis are available in 7-slot or 18-slot and support over 1,000 of our PXI modules, additionally our 2-Slot USB/LXI Chassis allows most of our 1 or 2-slot PXI modules to be controlled via USB or Ethernet. The PXI modules range from: PXI general purpose relays, matrices, multiplexers and RF switches to special PXI switching functions such as fault/signal insertion. Also supported are a selection of T&M modules such as programmable resistors, digital I/O, power supplies, battery simulators and attenuators.
LXI Products and Reference Map
Pickering offers various other LXI related products to satisfy your test and measurement needs including the Modular Chassis, Low Frequency Matrices, RF/Microwave Matrices & Multiplexers and more. We also offer mating cables and connectors for these modules to ensure speedy and successful system integration.
We don't want to blow our own horn, but we are aware of our large and continuously growing range of LXI products. For that reason, we wanted to provide you with an easy way to find the products you need in our Product Reference Map. This is a single reference sheet to over 1,000 modular solutions and 150 switching systems, all of which comply to the worldwide LXI standard.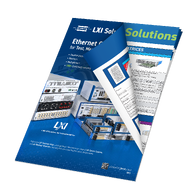 We also have similar reference maps available for our PXI, PCI, Programmable Resistors, Cable & Connectors and Reed Relay products -
take a look >>
Want More Information on LXI Switching? Download Our LXImate!
To learn more about LXI, take a look at our LXIMate book - a guide for those new to LXI systems and a useful source of reference material for the more experienced. This is a living document that we will continue to develop in support of the LXI standard and its future evolution. We welcome any feedback on subjects you would like to be included in future issues.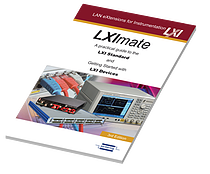 3 Year Warranty
Pickering
stand
s behind all of our products with a standard three-year warranty. All products manufactured by Pickering Interfaces are warranted against defective materials and workmanship for a period of three years from the date of delivery.
What does that mean to you?
Questions/Comments?
We know this was a lot of information on LXI Switching and you are probably saying to yourself "Yes, But I want more!" If you want to learn more about Pickering and it's products please feel free to browse the Pickering Website.
If you have any Questions or Comments about what you read today, please contact us at: e-mail support@pickeringtest.com