---
With over 30 years of signal switching and instrumentation experience, we've learned that when it comes to electronic test, one size does not fit all. That's why we offer over 1000 PXI modules. Below is a list of frequently asked questions on why and how we offer such a large range.
Why does Pickering offer so many modules?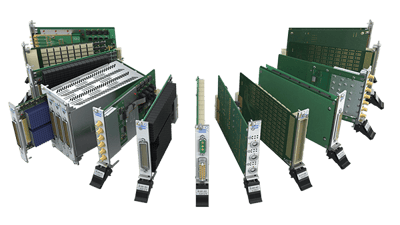 We entered the PXI market in 1998 with just a few modules—since then, primarily through customer demand, our PXI range has grown to over 1000 modules. This has been driven by a number of application requirements including:
Number of input and output channels
Voltage
Power
Current
Bandwidth
Switch time
Switching life
Switching technology

Reed Relay
EMR
Solid State
MEMS
Microwave Relay

Crosstalk/isolation
Budget limitations
Low noise
Switching configuration and density


These requirements are so varied that test engineers demand a very wide and ever-increasing range of solutions. "One size fits all" just doesn't work in switching for Test & Measurement.
Take a look at our PXI Switching page, on the left under product navigation it shows a product count for the number of modules available by main category and for each sub-category.
What types of PXI modules are produced by Pickering?
While PXI Switching & Programmable Resistors (for sensor emulation) are our main focus, we serve your electronic test requirements in other ways. Our PXI product line includes:
With so many modules, how can I find the exact one I need?
Use our Product Selector tool to quickly drill down to the exact module you need. We also have easy-to-use product reference maps with an overview of our entire range on one sheet.
In addition, we have highly experienced sales and applications people who understand switching and sensor emulation, contact us to learn more about our products and services.
How does Pickering offer quick delivery for such a large product range?
All module production processes take place in our two factories on flexible, demand-based manufacturing lines. We have complete control of the whole manufacturing process— we do not subcontract any process; everything is designed and manufactured in-house.
How can Pickering possibly offer long-term product support on such a large range?
As stated above, our in-house manufacturing gives us complete product control. From time to time, we update designs to improve performance and reliability while seamlessly managing any component obsolescence issues, all while preserving form and fit compatibility. Typical PXI module lifetime is in excess of 20 years, which is very important for many of our customers, especially in the Mil/Aerospace and Transportation markets. Learn more about our customer support here.
How can you maintain and repair all these modules?
Pickering offers fast repair on a quick turnaround basis at very reasonable cost.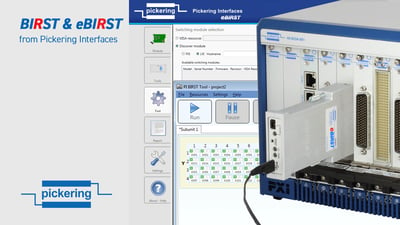 In addition, Pickering has a strong background in diagnostics. Modules with our BIRST™ feature can quickly diagnose down to component level. For most other modules, we have our eBIRST™ Switching System Test Tools, this toolset connects externally to the module and can diagnose faults quickly. All of our PXI modules carry a three-year warranty which is unaffected if users choose to undertake their own relay replacement.
Why not just offer software-configurable modules instead of so many different variants?
We do offer several software-configurable modules for customers who require this flexibility. However, these have not proved popular due to the added cost of configuration relays and the inherent disadvantages of lower switching density, reduced AC performance and crosstalk/isolation compromises.
Are Pickering PXI modules compatible with "NI PXI"?
This is a common question. Yes, of course, all of our PXI modules are 100% compatible with PXI products from all other vendors, including NI, Keysight and the other 60 members of the PXI Systems Alliance (PXISA).
Interested in learning more about the PXI Standard? Take a look at the article: "What is PXI" or get a copy of our FREE PXImate eBook.
What about Software?
Our module drivers support all popular software languages, including LabVIEW, Visual Studio, ATEeasy, LabWindows/CVI. We also support Real Time operating systems like Real Time LINUX as well as LabVIEW RT.
Can I use Pickering PXI Modules with other common buses?
Almost all of our PXI Modules can also be used in our LXI Ethernet chassis.
With such a big PXI range, where will I find suitable cabling and connectors?
We don't leave you struggling to figure out your connectivity. We offer a similarly large range of connectivity options and we have an online Cable Design Tool where you can design your own custom cable assemblies.
We also have strong partnerships with the two mass interconnect companies, Mac Panel and VPC, who have 100's of off-the-shelf as well as custom solutions.
Does Pickering really understand switching?
We are experts in switching technology. We have been designing and manufacturing modular switching systems since 1988, and our sister company, Pickering Electronics, has been designing and manufacturing instrumentation grade reed relays since 1968. Have additional questions or comments? Please Contact Us.
Interested in learning more about the PXI Standard? Take a look at the article: "What is PXI" or get a copy of the 5th edition of our PXImate book.