When it comes to designing and manufacturing automated functional test systems, today's engineers find that modularity is key. By using modular hardware, organizations can more effectively manage test equipment from new product introduction (NPI) through to mass/high-volume production.
In this three-part series, we will explore key considerations for creating modular test systems that can evolve through every phase of the product lifecycle. This article focuses on test systems when moving from NPI to high-volume testing see Part 1 about test systems for new products here.
When products move from the validation testing required for an NPI to the production testing required of multiple finished products, engineers are no longer looking for product design faults, they're looking for component or manufacturing faults. A well-planned NPI test system can evolve and scale to production testing if it is designed with the following in mind:
1.

Consider Available Resources
Footprint, cost, and component availability are all important when moving to a production test system. In the NPI phase, engineers are working with a full test bench, providing adequate space for equipment. On the production floor, space is limited. Component cost and availability also have implications on production testers – where an organization may need one tester for NPI, they'll often need multiple for the production floor – whether 2 or dozens.
2.

Minimize Product

Test

Time

and Improve Throughput
For high-volume production, it is essential to optimize the productivity of all test processes in order to minimize the number of test systems required to meet production demands. This entails minimizing the setup and test execution time of each test system. The device under test (DUT) must be able to quickly and reliably connect and disconnect from the test system so that time is not wasted between units as they move through the test system.
This requires reliable interfacing and possibly even the incorporation of mass interconnect for products with particularly high changeover rates. In these cases, all connections are made simultaneously via reliable, high-usage connectors in a standard streamlined interface.
3.

Operation and Integration Requirements
Test systems must be reliable and quick to repair if a fault develops in order to minimize any adverse impact on production. Also, because production testers are often handed off to be operated by technicians in completely different locations, they need to be easy to operate and well-documented. Similarly, production testers may need to integrate with factory management systems. Industry-standard controllers and programming interfaces will help to facilitate these objectives.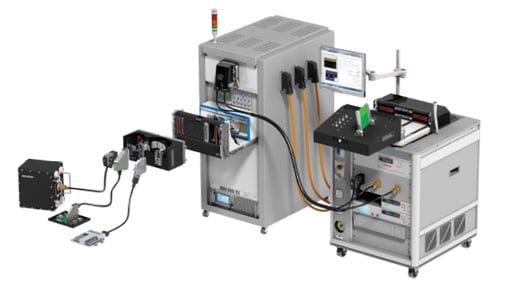 Modular

Systems for High-Volume Production Test
In the production test phase, a standard modular platform typically has an architecture capable of maximizing throughput - for example, all PXI instrumentation and switching modules are integrated into a single chassis with built-in high-speed timing and synchronization, and standard embedded or remote controllers can be easily upgraded to faster models as they become available. Using a platform like PXI also provides the opportunity for parallel testing on more than one DUT as instrumentation can be readily duplicated in the same PXI chassis, potentially further speeding test throughput.
Modular systems also typically provide better value than fixed systems since they offer flexibility, scalability, and reliability benefits while still being relatively easy and inexpensive to develop and maintain, especially compared to fixed systems. The industry-wide vendor support of a modular platform like PXI provides competition that results in best-in-class performance and pricing. And, well-supported products from reliable vendors enable access to long-term support for users of modular equipment.

Get the Whitepaper
The Case for Modularity in Test Systems:
From NPI to Mass Production Test 
You will learn:
Essential considerations when creating test systems for new products

How to bridge the gap between design and test engineers
Ways to get your testing up and running quickly

Processes to quickly adapt a test system to design changes

Important criteria for test systems when moving to high-volume testing

Best practices to minimize errors at every point in the testing process