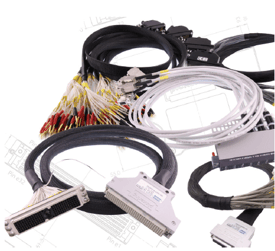 Correct interconnect products need to be selected once instruments and switching products have been chosen for a test set-up. This can be a complex process while checks are made, resulting in a significant investment in time, money, and in some cases, even exceeding the initial purchase cost of the devices.
The cable design for a test system is probably the last section of a test system development. And because proper cabling is critical for repeatability and accuracy, it needs care and expertise. Depending on the application, the test engineer needs to consider test specifications, including voltage, current, temperature, insertion losses, and more. From there, the engineer needs to determine the connections between the instrument and the Device Under Test (DUT), and then select connector types, backshells, wire length, and wire types. Unless the test engineer is an expert on cabling, researching wires and connectors can be a daunting task.
As a leader in test and measurement switching and simulation for over 30 years, we fully understand the importance of high performance and reliable interconnection between the component parts of a test system and DUT. That is why we established our own in-house connectivity division that manufactures a comprehensive range of 1200+ high-quality cable and connector solutions. There are times, however, when a standard cable assembly is not suitable, and there is a need for custom connectors and wire types or specific harness wiring. Pickering's free online Cable Design Tool (CDT) is a simple and efficient way of creating these custom cabling solutions.
The cable itself can be drawn in a few clicks, choosing connectors, backshells and wires from a library. Linking them together is achieved manually by clicking on pins, or an auto-link option will link user-selectable groups of pins in 1-1 order. A third option is to use the CSV import, where the pinout with signal names can be prepared in an Excel sheet.
Currently, there are around 500 connectors and 400 types of wires and cables in the library (which is growing daily). These can be selected by many attributes, including pin count, connector type, rated voltage, conductor count, insulation type, conductor size and more. Many sophisticated functions, such as screening, sleeving and labels, bundling, and much more, can also be added.
When the design is completed, the tool creates the full datasheet with all part numbers, lengths, labeling and pinout map for each path which can be downloaded in PDF format. Also, if the customer decides to work with Pickering, it can be used as build instructions for their production department. Otherwise, the customer is free to take the design and solicit other cable vendors.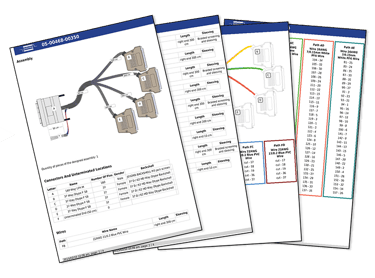 The tool is collaborative, enabling several people to work on a design, and once finished, the design is then sent to us to review. Our cable technicians can assist by suggesting cost-saving design changes and optimize the design for ease of manufacture by using stocked parts. Lead time is typically four to five weeks after receiving the order.
The main advantage offered by our connectivity division is the ability to provide precisely what you need. Our flexibility starts with the first point of inquiry. Our technicians receive cable drawings in many formats—AutoCAD, Visio documents, Excel pinouts, text descriptions, etc. They can analyze, design and manufacture complex custom cable harnesses. Our designers are there to help, whether modifying existing designs or designing new ones, our in-house production is flexible to cope with such demands and can manufacture in single quantities or high volume.
Take a look at our on-demand webinar "Simplifying Test Interconnect with Cable Design Tool" here >>
To learn more about cabling for your automated test system, take a look at our SwitchMate book, there is a whole section to help you understand it.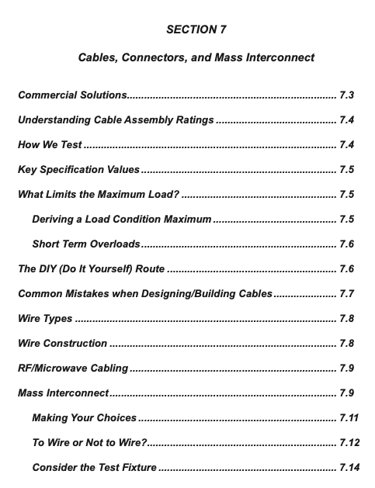 Have questions or need more information? Please contact us here.