As an applications engineer at Pickering, I often receive questions from customers about how Pickering's PXI switching products are referenced to ground. If you've run into this question before or after selecting your Pickering switching product, read on to learn more.

Q: How are Pickering's PXI switching products referenced to ground?
Perhaps it is best to first talk about grounding in the PXI environment. Slots within the PXI chassis are grounded through the front panel and return lines provided for power supply voltages. The only ground available at the front panel interface is chassis ground and would come from the front panel being connected to the chassis. Here is a diagram from the PXI Hardware Specification showing the power and grounding scheme used in a PXI chassis.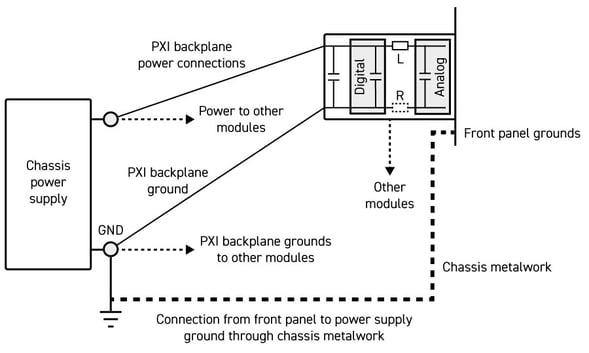 Power and ground connections on a PXI module
A basic concept to keep in mind is that any source that is applied will need to be returned to this source. Care needs to be taken as to how this is returned.
A: Pickering PXI switching is not connected to ground except for coaxial microwave and RF offerings. Microwave and RF cards have the coaxial shield connected to the chassis, grounded through the front panel. Some cards have a ground connection available on the front panel connector. This is provided as a convenient chassis ground reference point. This signal name may be GND, FP_GND or SIG_GND and isn't available on all switch cards.
Another topic related to grounding is the use of screened relays.
Q: I have noticed that some of Pickering's PXI switch products have a "Screened" relay offering. Can you explain what screened relays are and the advantages of using them?
A: Some of our switch offerings come with an optional build that uses screened or shielded relays. Check out this article, Managing Screen Connections on Switch Modules, on our Knowledgebase to learn more.
Have additional questions about ground connections or screen relay offerings? Contact our team here.